So can a natural deodorant actually work?  We road tested the Fit Pit to find out!
It was one of the hottest days in May ever recorded in Manchester (and in what we call the rainy city, that is some achievement).  Add to that the fact that I was moving furniture and generally being very active, we have ourselves a vigorous testing environment for the Fit Pit Natural Deodorant.
I have struggled to find a deodorant that I like that isn't either full of chemicals or ridiculously expensive.  I couldn't wait to try this natural product that smelled divine and looked so pretty in their little glass jars on my bathroom shelf.
The deodorant is 100% organic, vegan and handmade in UK by The Green Woman, a small family-run business with makeries in Shropshire, Oxfordshire and London.  I am really trying to use products which are produced independently and have a green ethos, as well as being vegan obviously and the Fit Pit ticks every box.
First of all I tried the Peppermint which smells so fresh and is lovely and cooling on the skin.  I had just shaved my underarms and there was no stinging at all which I regularly experienced with other deodorants.  The deodorant kept me really fresh all day and I have to say, given the hot conditions and my manual labour activity, I was surprised.  I had to stop myself taking a lick of the Tea Tree &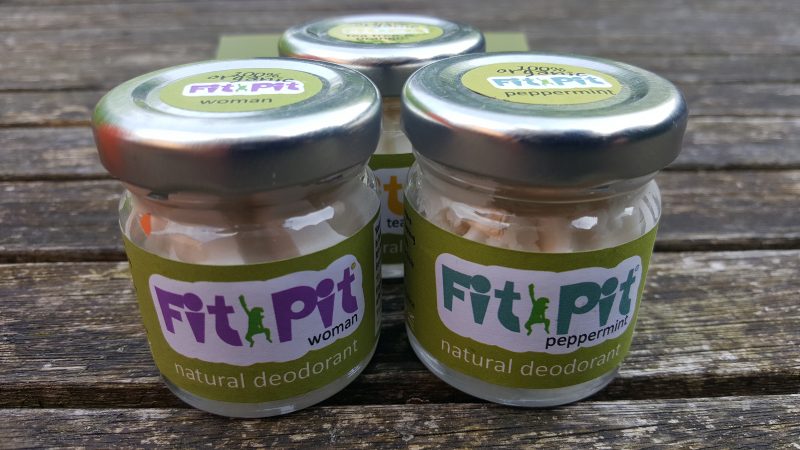 Orange, it smells so lovely and the Woman scent offered a nice surprise smell of rosemary which I loved.  Before using the product, I was slightly dubious about the application method.  You take a pea sized amount on your finger and apply it directly to the under arm.  I had visions of sticky fingers and difficult moments attempting to turn on the tap to wash off the stickiness from my hands but it actually causes no problem at all and in fact, no different to applying a facial moisturiser with your hands.
The most important requirement of a deodorant for me is that it is free from Parabens, BPAs and Aluminium Salts.  It is a must that those nasty ingredients don't go anywhere near my skin.  No animal testing is also a requirement and the glass jars are a lovely added bonus and they will even give you 30p off your next order for every jar you return.  Very nice thank you.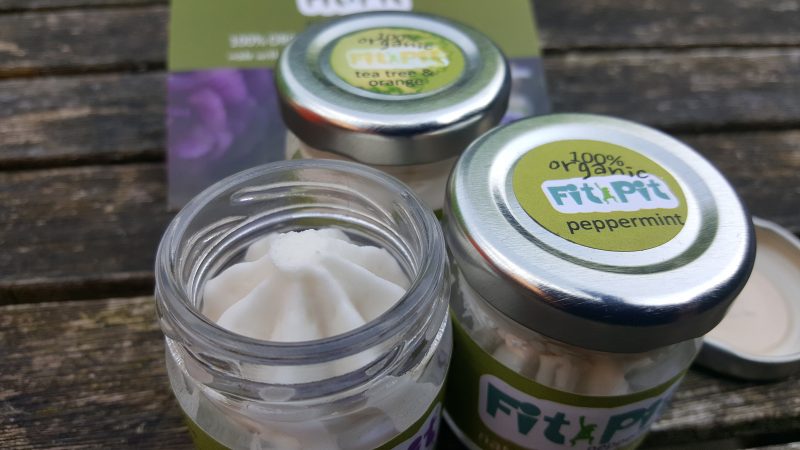 And not a white mark in sight, not a single one and I've been wearing it every day for over 3 weeks.  It dries instantly too so no waiting around flinging your arms around in the air!  I've not decided which ones I like the best so I'll just have to order them all and even my 9 year old has requested one of his own so I'll be ordering the Fit Pit Sensitive or Orange and Tea Tree for him!
The full range includes:
Fit Pit Woman – Lightly scented with Rosemary, Bergamot and Geranium essential oils.
Fit Pit Man – Lightly scented with Cypress and Bergamot essential oils, deters excess perspiration.
Fit Pit Peppermint – Fresh and minty unisex fragrance. Gentle formula mild enough for young skin.
Fit Pit Tea Tree & Orange – Cesty citrus unisex fragrance. Gentle formula mild enough for young skin.
Fit Pit Sensitive – Unscented. Suitable for sensitive skin and children as a first deodorant. Suitable for use during pregnancy, breastfeeding, homeopathic treatments and cancer treatment.
So no more shopping around for deodorants for me.  I have the Fit Pit firmly in my daily regime.  You can buy the Fit Pit in Our Shop or the Green Woman's online shop.