You can't beat day trips to the coast but there is definitely a tick list of must-haves when visiting the seaside for me:
To paddle ones feet in the sea – regardless of the weather, there's nothing like dipping your feet in the water, carefully avoiding not being caught out by a powerful wave along with the eventual presence of sand in areas you would believe it could reach.
To spend an extortionate amount of money on "penny machines" to win those golden tickets only to then exchange the thousands you win for a pack of sweets and a plastic flashing dice.
Finally, and most importantly for me, a visit to a chip shop – seaside chips taste so much better with a dollop of sea air.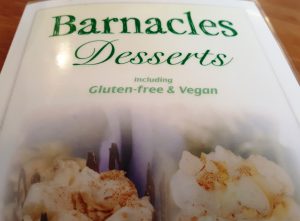 Anyone that knows me will vouch that I am a huge chip fan.  Drowned in salt and vinegar, they are up there with my favourite things of all time.
So when I found out 3 years ago that some (many) chippies fry their sausages, chickens and other meat products in the same fryer as the chips, I was mortified.  Wherever I visit a chip shop now, I always ask the question, breathless for the answer, which if positive, I do a secret mind dance and if negative, nod politely and cry inside.
My visits to the chip shop in general have subsided since learning this fact (ok good for my waist-line but not so much for my happiness!)  I consoled myself with my homemade version but when visiting Llandudno recently I just wanted to re-live the joy of the seaside chippy and headed to the net for research.
When I found Barnacle – a chippie with a vegan menu, I was flabbergasted, excited and downright shocked.  I made the trip with a sense of trepidation, under no illusions that this will actually work out in real life.  So when I entered the restaurant and saw the vegan menu, all my expectations were met.  The confidence that they actually had a separate area on the menu was such an enlightening and comforting thought. They do breakfast and hotpot and chilli and fishless fingers as well as an array of other options (19 in total).  Nineteen vegan options is amazing to say the least.
So talking about all these amazing options – what did I choose?  Well, if you eat only a plant based diet and you are reading this you will understand this word…..GRAVY.  Sure I can make it at home but to go out and get it, well it's just exciting beyond belief.  I used to have Chips, Peas and Gravy in my Uni days and actually introduced the concept to many of my southern friends who hadn't even heard of the combination. So the fact that I could have this again was just too much and I abandoned all the other options (will try them next time if I get the will power).
It was delicious and comforting and I completely recommend this fab, forward thinking place to get your seaside chippie fix.  By the way, Llandudno is the BEST seaside resort too.
https://www.facebook.com/pages/Barnacles-Chip-Shop/160829683931617
7 Mostyn St, Llandudno, Wales, LL30 2NL