Many Vegans I speak to LOVE cooking.  It's almost part of the package – to create magical meals that prove to yourself and others that living a plant based life is easy, exciting and delicious.  I for one spend pretty much all of my spare time creating dishes that I hope will inspire and encourage non-vegans to at least consider that we are not crazy people who just eat grated carrots wrapped in a lettuce leaf.  Eating a plant based diet also requires imagination and creativity because, let's face it, it's not always easy to go out and grab vegan food on the go.
Having said that, Veganism has taken on a life of its own recently.  With so many big brands realising that there is a growing market,  new products are released on a regular basis.  When I became Vegan 2 years ago (Veggie for 20 years before) there were few convenience options available.  Now we have Gary, Ice Cream, Chocolate, Yogurt, Mylk, Pies, Hot Dogs – the list is endless.
So we all know about these handy foods that can help us to create lovely dishes but what if there was something that could arrive at your door, created by only plant based chefs that you stick in the freezer and then cook as instructed when you were ready to eat it?  That doesn't exist yet does it?  We're not there yet surely.  Oh yes we are.
Introducing allplants.com, this fabulous forward thinking company deliver frozen Vegan meals to your door.  Yes frozen!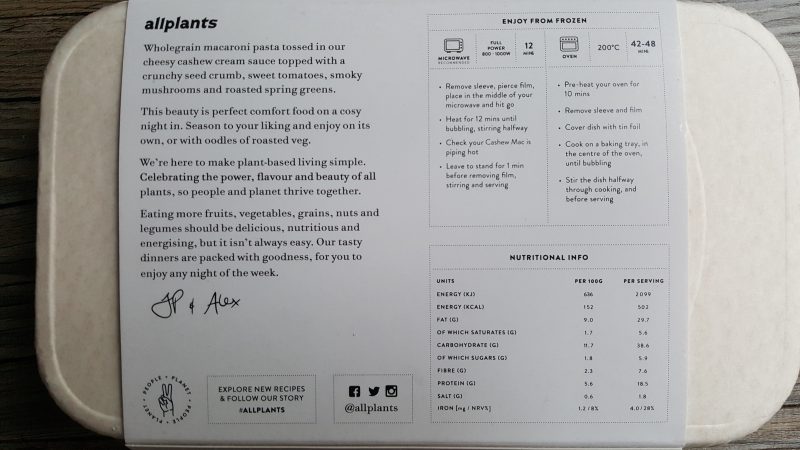 The totally plant-based dishes are cooked slowly by hand, perfectly portioned and quickly frozen to lock in all the goodness, ready to enjoy, without waste or worry, in your own time.   The dishes are restaurant-quality and delivered to your home or work, in recyclable packaging via carbon neutral deliveries – so you can be kind to yourself and the planet.
I have to admit I was a little sceptical at first.  Although I do eat convenience food (aka Linda's sausages with a jacket spud and half a can of beans – love this meal btw!) I've never been a ready meal type of person but the allplants range doesn't feel like convenience food, even though its super convenient!  It  certainly doesn't belong in the 'ready meal' category either.  The quality of everything is immense, from the box it arrives in, to the frozen packs to maintain the correct temperature, to the packaging and instructions on the dish itself, the allplants brand just oozes quality in every area.
After excitingly opening my Cashew Mac, in a totally selfish "I'm hungry and intrigued" kind of way,  I stood back and suddenly felt a little disappointed that the single dish was encased in a huge box with lots of packaging.  What's all this about carbon neutral deliveries I thought, then I saw the pre-paid return label which is super easy for customers to stick back on the box and drop it at the post office for no charge.
This means everything they use is recyclable and so indeed a forward thinking company.  Every box was ticked for me.
It can't be easier to cook – turn on oven… place in oven…wait allotted time….scoff.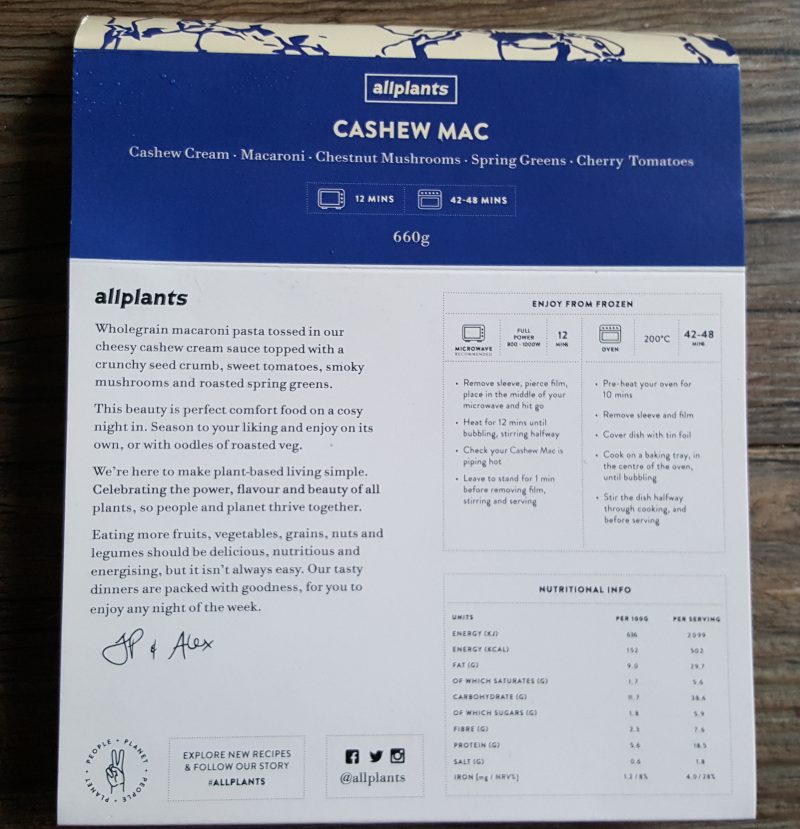 The Cashew Mac served two and it was super tasty, filling and creamy.  I loved the greens and tomatoes which gave a freshness to the dish.  The macaroni was perfectly cooked and the mushrooms had an amazing crunch to them (this is never the result when I freeze mushrooms!).  In all, you would be fooled to think this dish was freshly made right there in my kitchen.  In fact, try it and invite your friends round and pretend you've slaved all day over a hot oven (remember to secretly dispose of the boxes – fully recyclable!)
Since launching last year allplants have gone from strength to strength serving over 100,000 meals and tripling the size of their kitchen!  Other dishes include: Super Green Risotto, Wild Green Curry, Fiery Jerk Jackfruit, Lasagne and many more!
I for one am a huge supporter of these guys (who seem like really nice guys too…..)  If you live a plant based life (or don't) get yourself over to allplants and see for yourself.